$325.00-375.00 per night plus tax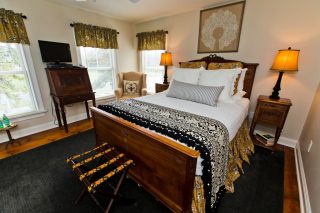 Located on the second floor, this spacious room is elegantly appointed with period french antiques.
The hand carved roses and ribbons embellish the queen sized bed and amoire. The bed is draped with pressed crisp white linens, fluffy pillows and soft blankets.
The beautiful in suite bath has plenty of natural light, and is tastefully done in cool beige with gold and black accents. A roomy shower and a Parisian console sink are well appointed in this tiled bath and we look forward to pampering you with fresh towels and cozy monogrammed robes.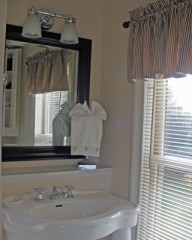 A full country breakfast is included in your stay, and is served each morning at 9:00am. Fresh eggs are provided by the girls out back. If you have any dietary restrictions please notify us at the time of your reservation.
Tea, Coffee, Snacks, Water Bottles are available anytime, and can be found in the dining room.
Homemade goodies will be served in the afternoon.
Please let us know if you would like an evening turn down.